We Are a Full-Service Bathroom Remodeling Contractor Serving Grand Rapids, MI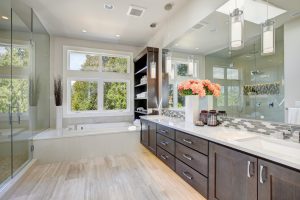 As one of the most-used rooms in your home, your bathroom should project more than Spartan utilitarianism. Instead, it should serve as a retreat, a place that provides you with a rejuvenating experience while you perform your daily routines. If you find your bathroom currently prevents you from enjoying this kind of relaxation, then it might be time to consider a bathroom remodeling project in your Grand Rapids, Michigan, home.
Since 1985, HWC Home Works Corp. has provided homeowners like you with their dream bathrooms. As a full-service contractor, we can make your bathroom remodeling project proceed as smoothly as possible. During every step of the process, from the creation of initial designs through construction and on to completion, you will have access to a friendly and familiar face. This allows you to relax and enjoy the process, knowing exactly who is coming into your house. Whether you want to completely change the look of your space or just replace a few key fixtures, let HWC Home Works Corp. serve as your bathroom remodeling contractor of choice.
Dramatically Changing Your Space With a Full Bath Remodel
A full bathroom remodeling project involves completely gutting the existing space and rebuilding it. These types of projects provide you immense opportunity for creating the room you've always wanted. However, they can also be stressful when improperly handled.
Fortunately, the HWC Home Works Corp. team possesses extensive experience helping homeowners through every step of the process. Before work begins, our designers will provide you with 3D images of the completed project. During construction, an experienced production manager oversees our team LED-certified technicians as they install high-end products from trusted manufacturers like KOHLER®, Moen, Delta, Toto, and Gerber.
Updating the Major Features With a One-Day Bath Remodel
In addition to performing full remodels, our team can also complete one-day bathroom remodels. These projects change the look of your space by updating a major bathroom feature, all with minimal interruption to your daily life. This makes one-day remodeling projects perfect for bathrooms that need an efficient update.
When conducting a one-day bathroom remodel, we can perform a:
Tub or shower replacement
Whatever your choice, you can rest assured that we will make use of high-end acrylic products. This beautiful acrylic material can convincingly mimic ornate tilework or intricately-veined stone. Its durable, nonporous surface helps it to resist chipping, fading, scratching, and any mold or mildew growth. This keeps your new shower or tub beautiful and functional for years to come.
Standing Behind Our Service With Exceptional Warranties
We stand behind the quality of our service. In addition to choosing to install products backed by industry-leading manufacturer's warranties, we also provide you with a one-year, all-inclusive workmanship warranty. This provides you with the ultimate peace of mind regarding your bathroom remodeling project. It's also part of the reason why HWC Home Works Corp. has earned multiple service awards and can maintain an A+ rating with the Better Business Bureau.
Are you ready to embark on your next bathroom remodeling project with a contractor you can trust? Contact HWC Home Works Corp. today to get started. Or, visit our Grand Rapids showroom to see our products for yourself.