Performing Bathtub Replacements in Grand Rapids, MI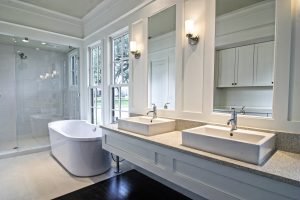 Picture this: After a long and exhausting day, you retreat to the bathroom in your Grand Rapids home, light some candles, and fill your tub with steaming water. Then, you settle in for a relaxing soak, letting the hot water soothe aching muscles and wash away your stress. Sound appealing? If your tub doesn't currently lend itself to this kind of experience, it may be time for a bathtub replacement. The area's premier bathroom remodeler HWC Home Works Corp. stands ready to help! For more than 30 years, we have helped our Michigan neighbors by creating dream bathrooms they can enjoy using for years to come. We would be happy to put our decades of experience to work for you, performing a bathtub installation that turns your cramped or damaged bathing space into a serene, spa-like retreat.
When Should I Replace My Bathtub?
This is the perennial question every homeowner asks themselves when considering a bathroom remodel. After all, a bathtub replacement isn't the kind of project you want to take on every day. It requires a hefty investment, and you may find yourself wondering whether it would be worth it to upgrade your bathing space right now.
While you may pursue a bathtub installation as part of a larger project or simply to update the look of your space, we'd also recommend a replacement if your current tub:
Is damaged or leaks, as this makes a large and prominent feature of your bathroom virtually unusable
Has stubborn mold and mildew accumulation, especially in hard-to-clean areas like inside jets or around seals
Features prominent stains or faded patches that make it look dingy and unappealing
Just isn't comfortable, since no one wants to use a bathtub that's too short or too shallow
You might also consider a bathtub replacement if your current bathing fixture is old and has outlived its warranty coverage.
Our Replacement Bathtubs Will Suit Your Tastes
At HWC Home Works, we don't believe in cookie-cutter solutions. After all, you're not a gingerbread person living in a gingerbread house. No, you want a bathing space that feels like an organic part of your bathroom décor and allows you to really unwind. This is why we partner with a variety of leading manufacturers, allowing you to choose from a bevy of customization options before your bathtub installation.
Start by choosing the style of your new tub. We install:
Alcove tubs
Freestanding tubs
Drop-in tubs
Undermount tubs
Corner tubs
Overflow tubs
Once you've settled on a style, you can fine-tune the profile, size, and color of your replacement bathtub. Do you want a long tub where you can stretch out? How about a deep tub where you can sit comfortably while staying mostly submerged? The sky's the limit with your project. In fact, we'll even allow you to pick your new tub filler and drains, ensuring you can be proud of every part of your new bathing fixture.
Why Choose HWC Home Works Corp.?
When you choose our team to complete your bathtub installation, you can rest easy knowing you're in good hands. We like to tell new customers that we'll be their "remodeler for life," because most Grand Rapids homeowners we work with come back to us time and again for their remodeling needs. We handle everything in-house—from generating initial designs to completing construction—meaning that you'll have access to a friendly and familiar face for the duration of your project. And you don't ever have to worry about us coming to you saying that your project will run over its proposed timeline and budget. We're proud to have earned a reputation for keeping our word.
So how about it? Are you ready to enjoy a pleasant soaking spot in your Grand Rapids, MI, home? If so, contact HWC Home Works Corp. today to schedule your consultation and learn more about the bathtub replacements we perform.