We Perform Cabinet Refacing Projects in Holland, MI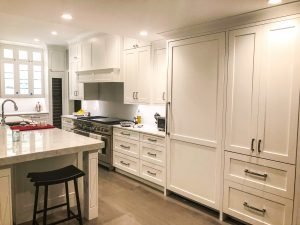 Whether you have crisp white cabinets that make your kitchen feel airy or dark traditional cabinets that give the room a sense of richness, there's no doubting that cabinetry plays an important stylistic role in your space. Of course, outdated or damaged cabinets make a statement too. That's why HWC Home Works Corp. performs cabinet refacing projects for homeowners across Holland, Michigan. If you find that the cabinetry in your home leaves something to be desired, our team would be more than happy to update its look. And the best part? Kitchen cabinet refacing projects cost far less than a traditional cabinetry replacement project, and we can usually complete them faster. This allows you to spend less time fretting over your kitchen update and more time enjoying the results.
Refacing Cabinets Transforms the Look of Your Space
When faced with unattractive cabinetry, most homeowners assume that a replacement is the only solution. But, since a full cabinet replacement requires a hefty investment, the vast majority of homeowners will just resign themselves to living with ugly, outdated, or damaged cabinetry for the time being.
Lucky for you, we have a better alternative to this all-too-common dilemma. During a kitchen cabinet refacing project, our team will completely transform the appearance of your room by repainting or applying new veneer to your existing cabinet boxes. Then, we'll install new:
Drawers and door faces in your favorite style
Doorknobs and drawer pulls
Hardware, like hinges and drawer slides, to ensure your cabinetry operates smoothly
Since we maintain your original cabinet boxes when refacing, you'll find that this type of project can cost significantly less than a full replacement. And if you want to go a step further when it comes to updating the look of your kitchen, our team can install beautiful new countertops as well.
Updating Your Kitchen Without the Hassle
While kitchen cabinet refacing projects usually offer more for less, that's far from the only reason Michigan homeowners love them. In fact, one of the biggest draws for these remodeling projects is the timeline. From start to finish, a full cabinetry replacement project can take weeks. During this time, your kitchen remains more or less unusable while you and your family get used to eating takeout.
On the other hand, out team can finish refacing most cabinets in less than a week. We also generate less mess (and less waste), since we maintain your existing cabinet boxes instead of replacing them. This keeps your project from feeling overwhelming and allows you to start enjoying your beautiful new kitchen as soon as possible.
Service You Can Count On
At HWC Home Works Corp., we like to say that we'll become your remodeler for life. That's because our team is committed to making sure your project goes smoothly from start to finish. Not only do we entrust our kitchen cabinet refacing projects to our team of highly experienced professionals, but we also assign a lead carpenter to every project. This allows us to consistently provide the high caliber of service we've become known for. It also provides you with access to a friendly and familiar face for the duration of your cabinet refacing project, giving you peace of mind about the people coming into your home.
Are you ready to transform the look of your kitchen? Contact HWC Home Works Corp. today to schedule your consultation and learn more about the cabinet refacing projects we perform in Holland, MI.