Award-Winning Bathroom Remodeling Contractor Proudly Serving Kentwood, MI, Homeowners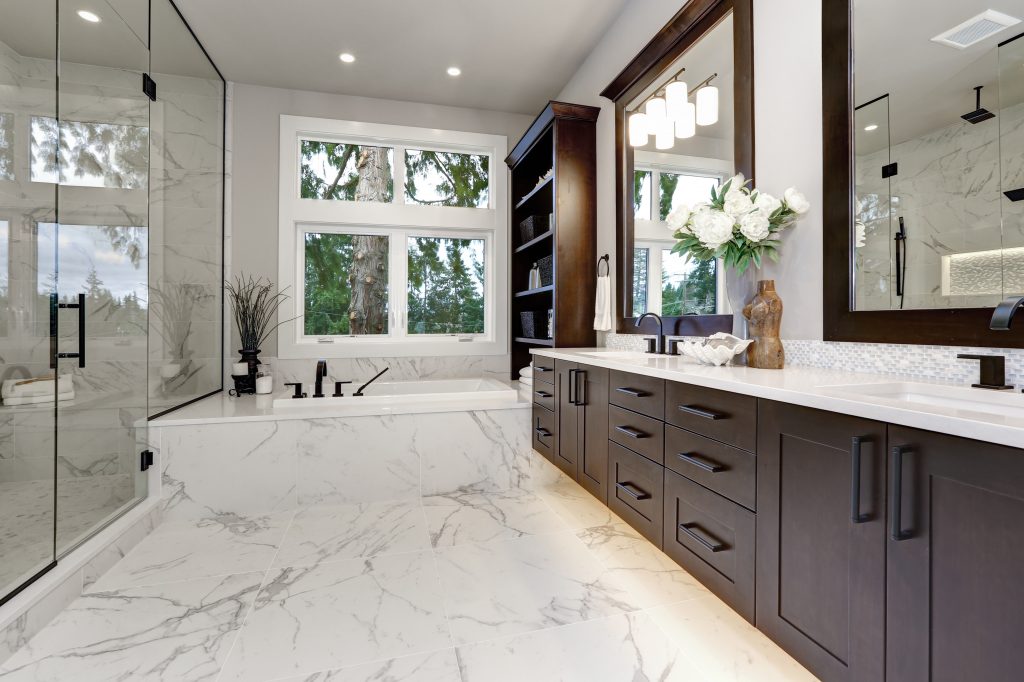 Whether you prefer to wash up in the morning or at night before you go to bed, you can never underestimate the importance of your bathroom in your daily routine. However, if your bathroom is showing unsightly signs of age with cracks and mildew, you probably won't feel very clean after using it. And if your bathroom isn't tailored to your needs or presents a hazard, you likely won't feel safe using it either. Whether you want to give the bathroom of your Kentwood, Michigan, home a face lift or you want to make it safer for yourself and your loved ones, there's only one local bathroom remodeling contractor you should trust—HWC Home Works!
Since our founding in 1985, we've been a trusted source of premium renovations that bring our customers' dream bathrooms to life. We proudly provide luxurious products as well as exceptional customer service, helping us earn an A+ rating from the Better Business Bureau as well as numerous awards, including the Guild Quality Guildmaster Award. Our bathroom remodeling services include:
One-Day Bathroom Renovations
Some homeowners are wary of embarking on a bathroom renovation project because they fear it could leave them without a functional bathroom for days or weeks. To make the process as simple and stress-free as possible, we proudly offer one-day bathroom remodels. Our team of highly skilled remodelers can complete the following renovations in as little as one day:
Shower and Tub Replacements
We offer replacement showers and bathtubs that are infused with special coatings that are resistant to mold, mildew, stains, cracking, and more. For added safety, our showers are available in low- and no-threshold options that eliminate the risk of tripping over a high ledge. Or, if you prefer a nice warm bath at the end of a long day, our deep soaker tubs are a great solution. No matter what you choose, all of our replacement showers and tubs are highly customizable and available in a variety of colors, and with add-ons such as grab bars, floating shelves, and seating.
Tub-to-Shower Conversions
Our tub-to-shower conversions are a great option for homeowners who want a safer, more spacious bathroom. As mentioned before, a low- or no-threshold walk-in shower makes it easier to enter and exit your shower safely. Additionally, removing a bulky tub and converting it to a walk-in shower will make you bathroom appear bigger and more attractive to potential buyers if you're looking to sell your home later down the line.
Full Bathroom Gutting
Sometimes a shower/bathtub replacement or conversion isn't enough to get your bathroom in top shape, which is why weare willing to gut your bathroom and start from scratch if necessary. Gutting your bathroom means tearing down all the finished material, such as flooring, walls, and the ceiling, and rebuilding it. Full bathroom gutting is great if you're looking to:
Address plumbing concerns
Boost insulation
Repair termite damage
Replace rotten subflooring
Seal air leaks and drafts
Custom Tile Work
Brand-new custom tile installation is a simple but effective way to give your bathroom a new look. We offer stylish, durable bathroom tiles in a plethora of designs and colors, so you're sure to find a tile style to match your aesthetic.
Take the First Step!
To learn about our bathroom remodeling services and to find the right renovation option for your Kentwood, MI, home, contact HWC Home Works today to schedule a consultation.