The Most Trusted Tub-to-Shower Conversion Contractor Serving Kentwood, MI, Homeowners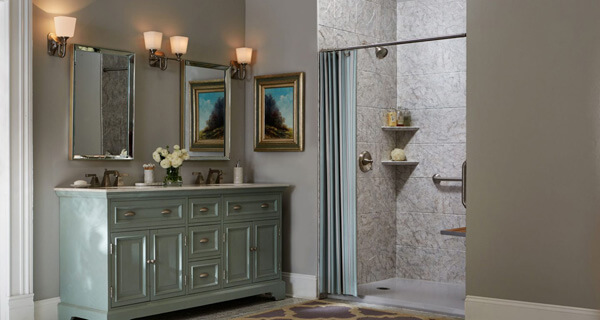 If your bathtub is seldom getting used or you prefer showers, it may feel like your tub is taking up too much space. To tailor your bathroom to your needs and free up space, contact the experts at HWC Home Works and ask about our tub-to-shower conversions. Proudly serving homeowners in Kentwood, Michigan, HWC Home Works has long been the remodeling company homeowners trust for premium bathroom remodeling, including tub-to-shower conversions. Over our 30 years of operation, our outstanding work has helped us earn and A+ rating from the Better Business Bureau as well as numerous awards, including the Guild Quality Guildmaster Award.
The Benefits of Converting Your Bathtub to a Shower
Replacing your tub with a shower can:
Add Space to Your Bathroom
A bathtub can be difficult to bathe in if you struggle with mobility, since they confine you to a small space. By opting for a tub-to-shower conversion, you'll be able to convert your tub to a walk-in shower that allows you to move more freely. Plus, a converted shower will even make you bathroom appear larger.
Make Your Bathroom Safer
One of the most common causes of injury among homeowners is tripping or falling over a high tub ledge. If you're looking to eliminate the risk, a tub-to-shower conversion is a great option. By switching to a low- or no-threshold walk-in shower, you'll greatly reduce the chance of slipping. For added safety measures, you can also equip your new shower with add-ons like grab bars and seating.
Let's Get Started!
To learn more about why a tub-to-conversion is the right choice for your bathroom, contact HWC Home Works today to schedule a free consultation. We're always happy to service Kentwood, MI, homeowners.