Invest in a Tub-to-Shower Conversion for Your Wyoming, MI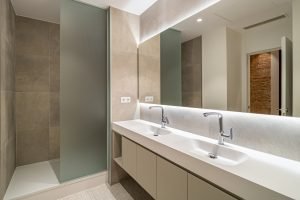 Let's face it: Our fast-paced lives may make the idea of settling into a tub for a long soak appealing, but most of us are far more likely to enjoy a bracing shower on a daily basis. After all, it's quicker to take a shower before we head off to work in the morning and easier to rinse off before we head to bed at night. So, why not invest in a tub-to-shower conversion for your Wyoming home? At HWC Home Works Corp., we regularly help Michigan homeowners when we replace tubs they rarely use with beautiful showers they can enjoy using on a daily basis. Our team would be happy to do the same for you, providing you with an attractive custom bathing space that both enhances the look of your bathroom and is designed to accommodate the way you'll use it.
We'll Build Your Dream Shower
For many homeowners, a tub-to-shower conversion serves as the perfect opportunity for remodeling a tired or outdated bathroom. After all, few bathing fixtures embody modern style like low- or no-threshold shower enclosures. And when you partner with our team for your upgrade, you'll receive a bathing fixture that perfectly suits your unique sense of style.
How can we be so sure about that? Well, you'll have plenty of opportunity for customization when we replace your tub with a shower, allowing you to choose the:
Surrounds – Our shower surrounds feature a variety of looks, ranging from sleek white or cream panels to patterned and textured surrounds that convincingly mimic expensive marble, granite, or travertine tile.
Showerhead – Do you need a minimalistic showerhead with neat modern lines? How about a traditional showerhead with gentle curves and bevels? Whatever you're looking for, we have an option for you. You can even upgrade your bathing experience for spa-like luxury by opting for a rain showerhead, handheld showerhead, or body sprays.
Doors – Finish your new shower enclosure off with stunning glass doors. Available in traditional framed or Euro frameless styles, these sliding doors will protect your floor from hazardous puddles while making your bathroom seem bigger and airier than it is.
What's more, we can integrate a number of storage or support accessories into your new bathing fixture when we perform a tub-to-shower conversion. This includes shelving, seating units, shaving stands, and grab bars. By the time we've finished, you'll have the kind of stunning bathing enclosure you'd expect to see in a home remodeling magazine.
Making Sure Your New Shower Lasts
A stylish shower is all well and good, but you want to know that your new bathing fixture will retain its attractive appearance well into the future. After all, you don't replace your tub with a shower every year. No, you need a shower that lasts. We understand, and we've partnered with industry-leading manufacturers in order to ensure your new bathing fixture can stand the test of time.
Made from high-caliber, multilayer acrylic, our showers are designed to withstand deterioration that can make a shower an eyesore or lead to leaking and costly water damage. In fact, you can expect your new shower to resist:
Scratching, flaking, chipping, and cracking
Staining and fading
Mold and mildew growth
Our showers even boast SilverShield™ anti-microbial protection, which allows them to resist bacteria growth. This makes cleaning your bathing fixture a breeze after we perform a tub-to-shower conversion—all you have to do is wipe it down with a soft cloth and non-abrasive cleaner.
Of course, it takes more than pretty promises to provide homeowners with peace of mind. That's why we also put our money where our mouth is, backing our showers with a lifetime manufacturer's warranty. This guarantee protects you from having to deal with any unlikely product defects on your own, allowing you to rest easy knowing that your new shower will maintain its stunning appearance for years to come.
It's Time to Enjoy the Bathroom of Your Dreams
It's time to say goodbye to your outdated or damaged bathtub and hello to a stylish new shower enclosure! Contact HWC Home Works Corp. today to schedule your free consultation and learn more about the tub-to-shower conversions we perform in Wyoming, MI.