We Install Custom Kitchen Cabinets for Wyoming, MI, Homeowners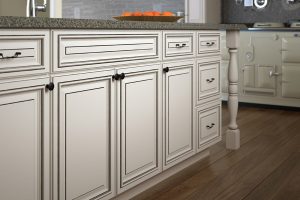 When you think about the kitchen in your Wyoming home, you probably picture time spent preparing the evening meal or baking up a storm before the holidays. But are these memories tinged by the look of cockeyed doors of the hassle of fishing necessary plastic ware out of the back of a deep lower cabinet? If so, you may want to consider investing in new custom kitchen cabinets. Lucky for you, Michigan's own HWC Home Works Corp. is here to help. Since 1985, we have provided local homeowners with kitchen cabinet remodels they absolutely love. Our custom cabinetry is sure to enhance the look of your space while providing you with all the storage you'll ever need.
Cabinetry Personalized to Suit Your Space
One of the many benefits of custom kitchen cabinets is the ability to personalize your kitchen to perfectly match your style. After all, big box store cabinetry options will either try to shoehorn you into a style you don't really like or boast a look so generic your kitchen will appear dull. But that won't happen when we remodel your kitchen cabinets, because we provide a bounty of ways to make your kitchen your own.
Start by choosing the profile of your cabinet doors:
Raised Panel Doors
Raised panel cabinet doors feature a central panel that rises to the thickness of the door frame. This panel can possess any number of profiles, from clean lines and gentle curves to ornate bevels.
You'll find this style of door adorning many custom kitchen cabinets, as it's served as a mainstay for decades and suits both traditional and transitional décor styles. Oftentimes, drawer faces are styled to match, giving all of your cabinetry a neat, unified look.
Recessed Panel Doors
Recessed panel cabinet doors look like you'd expect them to, with a recessed center panel. Oftentimes, these cabinets possess a crisper, sleeker profile than their raised panel counterparts, which makes them particularly well suited for both transitional and contemporary kitchens. Ultimately, though, recessed panel cabinetry can be adapted to suit all manner of kitchens, which means you can keep these custom kitchen cabinets should you ever decide to update your décor.
Slab Doors
These cabinet doors possess little to no ornamentation—they project simplicity with a minimalistic profile. Oftentimes, you'll find these cabinet doors and drawer faces in modern kitchens, where they give the room a clean appearance.
Of course, choosing the profile of your cabinet doors is just one of the options you'll have when you partner with HWC Home Works Corp. for your remodel. You can also pick the finish of your custom cabinets—either stain or paint—and give your kitchen a unique look by opting for glass insets or lighting options.
Storage Features You'll Love
While you want your cabinets to look nice after your kitchen remodel, that's likely not the only reason you want to invest in custom cabinetry. In fact, if you're like most homeowners, you probably want your custom cabinets to have plenty of storage. We understand this, which is why we size our cabinetry to perfectly match the dimensions of your room. This means that you won't have any dead space in your kitchen and can enjoy all the storage you need.
And if you're worried about accessing all of your new storage space? Don't be! We can integrate all sorts of easy-to-access features in your new cabinetry, including:
Pull-out trays for storing plastic ware, knives, utensils, pots, and pans
In-cabinet spice racks and canned goods storage
Corner cabinet Lazy Susans or swing-out shelves
In-cabinet kitchen waste baskets
That's just scratching the surface of what our custom kitchen cabinets have to offer. If you need storage, we have the solution.
Start Creating the Kitchen of Your Dreams
Are you ready to help the kitchen in your Wyoming, MI, home reach its potential? Contact HWC Home Works Corp. today to schedule your consultation and learn more about the custom cabinets we offer.