We Install Stylish Kitchen Countertops in Wyoming, MI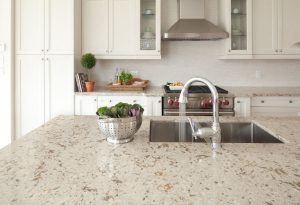 Your counters go a long way when it comes to providing the kitchen in your Wyoming home with its signature style. So when it comes time to update your kitchen countertops, you want to partner with a remodeler who will give you plenty of options. After all, you want to make sure that your new kitchen counters embody your unique style and make a stunning statement. HWC Home Works Corp. is here to help! For more than three decades, we've updated kitchens for Michigan homeowners, providing them with rooms they've always dreamed of having. We'd be happy to do the same for you.
A Wide Variety of Kitchen Counters to Choose From
Your kitchen countertops help to set the tone of your space, giving your room a touch of drama while making a stylish statement. At the end of the day, however, your kitchen counters are for more than just show. They'll serve as your work surface for years of dinner prep, holiday baking extravaganzas, and party hosting. So when you turn to us for countertop installation, we make sure to provide you with plenty of ways to personalize your new counters. This starts with the material, as we install:
Granite Countertops
Few kitchen counter materials offer the same sort of eye-catching drama as granite. This beautiful stone boasts rich veining and thousands of glistening flecks that will give your kitchen a touch of vibrancy. And because granite is a naturally occurring material, your granite kitchen countertops will possess an appearance as unique as you are.
Of course, you shouldn't assume that granite counters are just for show. In fact, granite makes for exceptionally strong kitchen counters that, when regularly sealed, will stand up to the wear-and-tear of everyday activities without losing their attractive sheen. What's more, granite countertops are virtually impervious to heat, making them an exceptional work surface while you're cooking.
Quartz Counters
Do you love the look of stone, but want kitchen countertops that require a little less maintenance than granite does? Sounds like you should look into our quartz countertops! This stone composite comes in a variety of looks, ranging from marbling patterns that mimic natural marble or granite to wholly unique patterns showcasing glinting, silvery flecks or elegant creamy whorls.
Where quartz kitchen counters truly shine, however, is in their durability. Featuring a nonporous surface, quartz counters naturally resist the stains that so often result from a spilled glass of wine or splattered pasta sauce. This feature also allows quartz countertops to resist bacteria growth, making for a sanitary work surface where you can prepare your meals. And while most manufacturers will advise against using knives or placing hot pans on your quartz counters, the truth is that this material will resist both scratching and melting.
Solid Surface Material Countertops
If you're looking for an affordable yet stylish material for your countertop installation, look no further than solid surface material. Made from two parts natural minerals and one part resin, solid surface countertops possess a polished finish that is unique insofar as they lack any visible seams. This makes solid surface kitchen counters popular amongst homeowners who want their room to have a fluid, cohesive look.
While not quite as durable as quartz or granite, solid surface material will weather your daily activity with grace. These kitchen countertops are homogenous, meaning that they look the same all the way through. Consequently, most damage your counters sustain due to everyday kitchen accidents can be sanded out to restore your solid surface countertops to a pristine condition.
Laminate Counters
Do you love the look of butcher block countertops, but hate the thought of having to carefully protect your kitchen counters from liquid? Have you found yourself drooling over chic steel counters, but know that you'll dent them while shuffling your pots and pans around? We have good news for you—our laminate countertops will give you the look you love without requiring any of the frequent maintenance.
Laminate kitchen countertops are easy to maintain, requiring little more than a simple soap and water cleaning to stay at their best. What's more, laminate counters are one of the most cost-effective options available, allowing you to save big while redesigning the kitchen of your dreams.
No matter the material you want, you'll be able to personalize your countertops to suit your style by choosing their color, pattern, and profile. Feeling overwhelmed by the number of choices available? Our experienced team would be more than happy to work with you during a countertop installation to find products that perfectly suit your style.
Let Michigan's trusted remodeler update the kitchen countertops in your Wyoming home. Contact HWC Home Works Corp. today to schedule your consultation and learn more about the countertop installation we can perform for you.