Our Kitchen and Bath Remodeling Services Turn Caledonia, MI, Homes Into Stylish, Functional Spaces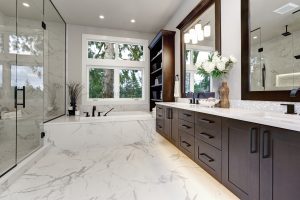 Your home serves as the stage for your life. It's where you and your loved ones perform the minutiae of daily rituals and play out some of your most treasured moments. If your interiors lack either the signature style required for this setting or a functional footprint, HWC Homeworks Corp. can help. Since 1985, we have completed kitchen and bath remodeling projects for Caledonia, Michigan, homeowners. Let us help create the interiors of your dreams.
Our Services
We believe that every kitchen and bath remodeling project should be an enjoyable experience. After all, we're turning your room into the perfect setting for your life. At HWC Homeworks Corp., we take care of your project from the initial conceptual stages, throughout the construction process, and on to completion. This allows you to sit back and watch as your kitchen or bath unfolds into the room of your dreams.
Our highly-skilled teams can handle all sorts of remodeling projects, from full remodels to individual projects designed to accentuate individual elements in your baths and kitchens.
Kitchens
A kitchen remodeling project can improve both the functionality and the aesthetic of one of your home's busiest rooms. Having your countertops replaced is a great way to add much-needed workspace, while cabinet refacing and backsplash installation can dramatically enhance your kitchen's style.
Bathrooms
A bath remodeling project can turn an otherwise utilitarian room into a luxurious retreat. We provide tub and shower replacements, walk-in tub installations, and tub-to-shower conversions that will increase the beauty and functionality of your bathroom. One-day bath remodeling updates your bathroom quickly, while custom tilework installations provide your room with a touch of opulence.
Basements
Basement finishing allows you to take full advantage of a space that might otherwise go underutilized. We can turn your basement into a game room, a playroom, or a home theater. Or, we can use our kitchen or bath remodeling experience to add a kitchenette or half-bath to your space.
Are you ready to turn your interiors into stylish, functional spaces? Contact HWC Homeworks Corp. today to learn more about our kitchen and bath remodeling services. You can request a quote, give us a call at (616) 531-6766, or visit our showroom near your Caledonia, MI, home.