Update Your Home With a Kitchen Remodel from Trusted Contractors in Grand Rapids, MI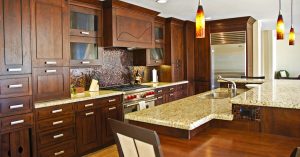 Your kitchen is one of the most used spaces in your home. It should provide the functionality you need on a day-to-do basis. It should also look great. If it doesn't, a kitchen remodel can be a great investment for you to make. To get the most value in a kitchen renovation, choose HWC Homeworks Corp. as your kitchen contractor. Our full-service remodeling company, which is based in Grand Rapids, MI, has been helping people create the homes of their dreams since 1985. Today we are proud to be known as West Michigan's smart choice for kitchen remodeling, and we're ready to help you realize the kitchen of your dreams. Through smart designs and expert craftsmanship, we will provide you with a worry-free remodeling experience that will add value and enjoyment to your home.
Transform Every Part of Your Kitchen
When HWC performs your custom kitchen remodel, nothing is off limits. We can execute a complete overhaul of the area, turning your kitchen into whatever you dream of. We'll first take the time to understand exactly what you want in your new kitchen. Then, we'll use 20/20 CAD design software to construct the diagram for your project so you can see exactly what the finished product will look like. We'll also recommend the best products to meet your needs, sourcing materials from highly reputable manufacturers. Some of the elements your kitchen remodel can encompass include:
Flooring
Islands
Sinks and fixtures
Lighting
Our Team Boasts Unparalleled Experience
We understand that the top-quality products you incorporate into your kitchen remodel won't do you much good if they aren't installed perfectly. That's why, at HWC, we use experienced carpenters on our projects. We assign a lead carpenter to every project, and most of our carpenters are employees of our company. Any additional tradesmen we use to complete the project – such as plumbers, electricians, and painters – are experts in their respective fields and have been working with us for many years. Because of this, we are able to provide a level of scheduling and craftsmanship that is unparalleled, so you can trust that your kitchen remodel will be completed perfectly down to the smallest of details.
Let us put our decades of experience to work for you. Make the right choice and partner with HWC for your custom kitchen remodel. We proudly serve Grand Rapids, MI, and all surrounding suburbs, so get started bringing your dream kitchen to life by contacting us today.