We Provide Stress-Free Kitchen and Bath Remodeling Services in Hudsonville, MI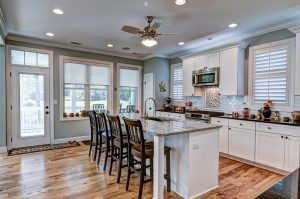 Does the thought of a kitchen or bath remodeling project set your nerves on edge? Have you delayed your renovation project because you don't want to deal with the accompanying headache? Let HWC Homeworks Corp. help. We take the hassle out of home remodeling, handling your project from the initial planning stages through its construction. With us at the helm, you can enjoy this kitchen or bath remodeling project in your Hudsonville, Michigan, home.
Our Services
At HWC Homeworks Corp., be believe that remodeling anxieties shouldn't keep you from having a home that perfectly suits your lifestyle. That's why we've simplified the process and made it easier than ever for you to remodel your:
Bathrooms
You and your guests use your bathroom consistently. However, this doesn't mean that this room must embrace cold utilitarianism. Our custom tilework will add an air of luxury to any bathroom. We also perform tub to shower conversions, install walk-in tubs, and complete tub and shower replacements. If time is of the essence for your bath remodeling project, we can perform one day bath installations.
Kitchens
As one of your home's high-traffic rooms, your kitchen needs a design that embraces both functionality and aesthetics. We can help your kitchen meet these needs by performing kitchen cabinet refacing, replacing your countertops, and installing a new backsplash. We also perform full kitchen remodeling projects that can update your kitchen's entire appearance.
Basements
Does your unfinished basement serve as a cold, dark storage room? Don't underutilize this large space. Our remodeling crews can remake your basement, turning it into a home theater, a child's playroom, or a fun game room. Combining our basement finishing services with our kitchen and bath remodeling services could turn your basement into a living space with a half-bath or kitchenette.
Would you like to enjoy a stress-free kitchen or bath remodeling experience? Contact HWC Homeworks Corp. today by requesting a quote, calling us at (616) 531-6766, or visiting our showroom just a short drive from your Hudsonville, MI, home.