What Are the Benefits of a One Day Bathroom Remodel?
Sep 04, 2019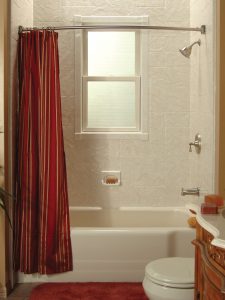 If you want to update your bathroom, you have likely already heard about one day bathroom remodels. These renovation projects sound almost too good to be true: a group of installers turns your dysfunctional bathtub or shower into a luxurious showpiece in a matter of hours, interrupting your life as little as possible. While this might sound like a renovator's fairytale, skilled contractors actually find completing a one day bathroom remodel quite feasible. These projects also provide you with numerous benefits, including:
Functional Bathing Spaces
Usually, the labor-intensive nature of remodeling a bathroom causes homeowners to postpone this project. Unfortunately, frequent postponements can cause bathrooms to deteriorate. If this situation sounds familiar to you, you've likely endured a highly dysfunctional bathing space for far too long. A one day bathroom remodel can provide you with a tub or shower that actually meets your needs as in as little time as possible, enabling you to enjoy your bathing experience instead of dreading it.
Beautiful and Durable Products
Oftentimes, we think that attaining speed means sacrificing quality. However, you will find that the products installed during a one day bathroom remodel embody both luxury and durability. That's because most installers utilize highly advanced materials that can convincingly emulate costly and difficult to manage stones, like marble, or intricate tile work. The best part? The durable materials used during a one day bathroom remodel usually require far less maintenance than their expensive counterparts.
Speedy Service
This might be obvious, but you really cannot oversell the value of remodeling your bathroom in a single day. Your bathroom is one of the busiest areas in your house. You use it when you get ready in the morning, before you climb into bed at night, and when you need to function throughout the day. Closing your bathroom down for a week or more requires rearranging your entire life. Closing your bathroom down for a day, on the other hand, is much less overwhelming.
Are you ready to enjoy the benefits that come with a one day bathroom remodel? Contact HWC Homeworks Corp. today or visit one of our showrooms to learn more.