Can I Replace My Tub With a Shower?
Jul 02, 2020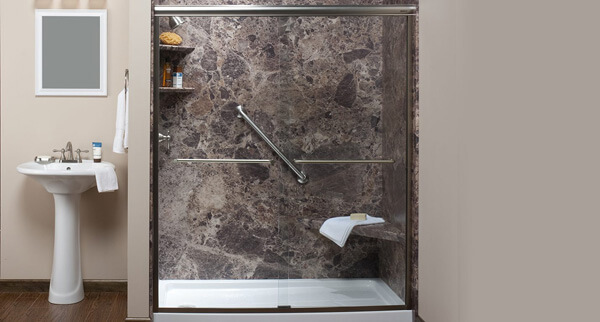 When was the last time your bathtub served as anything other than a barrier you had to climb over in order to enjoy your daily shower? If you're like most homeowners, you probably can't remember. You may even find yourself asking, "Can I just replace my tub with a shower?" Luckily for you, the answer to that question is a resounding yes! Bathroom contractors perform tub-to-shower conversions frequently, with skilled professionals even capable of completing these projects during a one-day-bathroom remodel. And, once you've replaced your tub with a shower, you'll get to enjoy a whole host of benefits.
Improved Functionality
Unless you have small children or pets who need to be bathed, odds are that you don't use your tub on a daily basis. You may not even use it on a weekly or monthly basis. However, if your bathroom features an alcove tub/shower combination, you still have to climb over the hazardously high barriers of this useless bathing fixture in order to take your shower each day. Additionally, thick tub walls limit your bathing space, making it difficult to move around while you try to shave your legs or scrub between your toes.
Improved functionality is a large part of what makes a tub-to-shower conversion so tantalizing for many homeowners. During this one-day bathroom remodel project, a contractor will remove your dysfunctional tub and replace it with a stylish low-barrier or no-barrier shower enclosure. Without a high bathtub threshold to climb over, entering your shower becomes as simple as stepping forward. You'll also enjoy more space inside your shower itself, allowing you to stretch and move around as you see fit.
Improved Safety
Did you know that the vast majority of household accidents occur in the bathroom? Climbing into or out of a slick bathtub is a dangerous endeavor, and those with limited mobility or impaired balance often find it even riskier. While a tub-to-shower conversion eliminates the need to maintain your balance while climbing over high bathtub barriers, most one-day bathroom remodel providers can integrate additional safety features into an enclosure at your discretion. Since shower stalls have more space, you can choose to outfit your enclosure with inset shower seating, giving you a stable spot to rest while you get clean. For additional support, ask your contractor to integrate grab bars into your shower that you can use when entering or exiting the enclosure.
Improved Style
While functionality and safety matter in a bathroom, you shouldn't underestimate the importance of style in this frequently visited space. After all, your bathroom should serve as a spa-like retreat where your daily shower becomes a truly rejuvenating experience. A well-executed tub-to-shower conversion will easily give your bathroom this kind of atmosphere. Thanks to a lack of barriers, most walk-in showers expand the visible square footage of your room, tricking the eye into making your bathroom seem airier and more spacious. If you invest in an enclosure with customizable walls, this luxurious effect is heightened, as your shower can display pristinely monochrome panels, rich stone marbling patterns, or intricate tile-like textures.
Does a tub-to-shower conversion project sound appealing to you? If you live in or around Grand Rapids, Michigan, HWC Home Works Corp. can help make your dreams a reality. Contact us today to learn more about our one-day bathroom remodels.