How Much Does a One Day Bath Remodel Cost?
Oct 02, 2019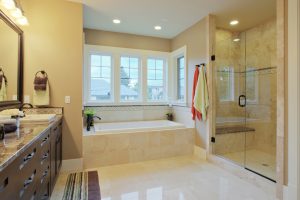 If you've been putting off your bathroom remodel because you can't bear the thought of closing this high-traffic room for weeks, then a one-day bath remodel might be perfect for you. These projects can completely update the look of your space without interrupting your life for long periods of time. Of course, the speed of the project almost sounds too good to be true. You also might find yourself asking: how much does a one day bath remodel cost?
While the answer to that question depends on several factors, a one day bath remodel does offer homeowners like you with tremendous value for its price point. Here's why:
The Process
Traditionally, a full bathroom remodel involves replacing several (if not all) major fixtures in a bathroom, including toilets, showers, and vanities. A one day bath remodel, on the other hand, usually updates a bathroom by addressing only one of its most visible features: the bathtub or shower. Instead of completely demolishing and replacing the fixture, an installer will choose instead to savage the bones of your tub or shower and "re-skin" it with a beautiful, durable material like acrylic.
The Cost
It should come as little surprise that traditional bathroom remodels are costly affairs. Replacing all of the major fixtures can cost homeowners between $5,000 and $25,000 depending on the size of the bathroom and the amount of work required for the renovation. Up to 60% of this price tag usually covers labor, which can cause the cost of bathroom remodels to balloon over time. Alternatively, one day bath remodels usually cost far less. This lower price comes from the fact that you're maintaining much of the original bathroom even though you're completely changing its look. And, since one day bath remodels require less time to complete, they'll save you money when it comes to labor.
Does a one day bath remodel sound interesting? Contact HWC Homeworks Corp. today! We also perform tub and shower replacements, tub to shower conversions, and walk in tub installations that can update the look of your bathroom without breaking the bank.